More Bioavailability - allows body to more readily absorb nutrients.
5HTP - Mental health Supplement - provides your body with nutrients to help build serotonin levels in the brain which may help Depression, Anxiety and Sleep.
Learn more
Recommended
By Physicians
To Your Health is recommended by hundreds of physicians, doctors offices and clinics nationwide. Many doctors have gravitated towards To Your Health due to the all liquid nature of our products and supplements. Many Psychiatric Clinics recommend To Your Health due to the proprietary Brain Health Formula that is included in our Liquid Vitamin Supplement.
Shop Now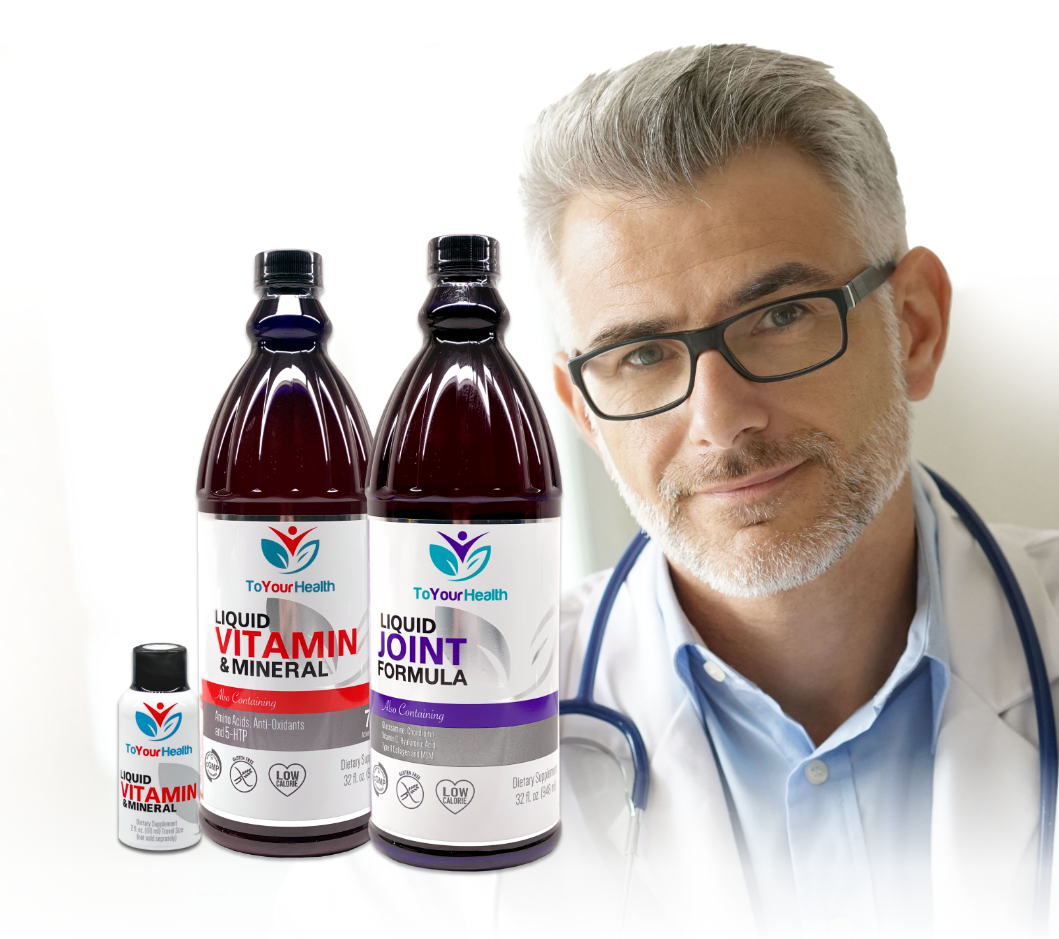 LIQUID JOINT FORMULA
SUPPLEMENT
The To Your Health Liquid Joint Formula has combined five essential ingredients known to have an effect on maintaining healthy joints. This special formulation may assist in the rehabilitation of cartilage and reduce the progression of osteoarthritis. It was designed to provide anti-inflammatory support for healthy connective tissues and the lubrication necessary to help cushion the joints.*"
Price: $36.35
Shipping Calculated at checkout
Buy Now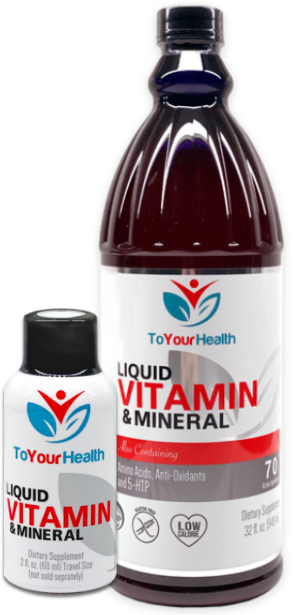 Vitamin & Mineral
Supplement
As the staple of our product line, To Your Health Vitamins have been providing superior nutrition to thousands of people for over 20 years! With more than 70 active ingredients, To Your Health Vitamins are one of the easiest ways to give your body the nutrients it needs, in one convenient and great tasting liquid formula. As a dietary supplement, take 1 oz. per day (1oz. = 2 measured tablespoons). Take once a day if you weigh less than 150 lbs. or twice a day if over 150 lbs. Drink as is or mix with water, juice or tea. Refrigerate after opening. Do not expose to extreme temperatures. (Shake well before using)*
Price: $36.35
Shipping Calculated at checkout
Buy Now
OUR REVIEWS
What are people saying ABOUT US
We love to hear that our products are making a difference in your lives towards better health.
I wanted some good supplements to take and a friend suggested I try To Your Health Products and I feel great. WOW what a difference.

Tracy D.
I've been taking To Your Health for about a year now. It's so easy to get all the nutrition I need. I used to take 6 or 7 pills a day, now I just take a "shot".

Chris T.
During a counseling session, my therapist recommended I try To Your Health. He explained how it contained nutrients that would help my serotonin levels and I have to say, I can tell the difference.

Pam H.